Seamless Aluminum Gutters
Seamless Aluminum Gutter Installation in GA
Installed by the Experts in North Georgia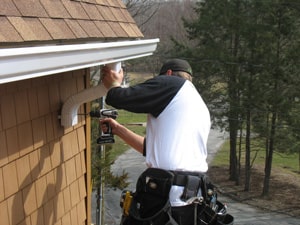 Just about every house needs gutters and downspouts. Without effective roof drainage, roof runoff will be dumped right next to the foundation. This substantial water flow can damage plants, decks, patios and exterior siding while also causing erosion. Inside the house, the basement can flood. In addition to providing effective drainage, gutters also need to look good because of their prominent position on 
the exterior of the building. Many homeowners elect to replace gutters and downspouts when a house is re-roofed. OC Roofing Systems can install seamless aluminum gutters in a variety of colors and styles to meet your needs and budget.
Affordable solution. Less expensive than other types, aluminum gutters are custom-fabricated to fit your house. Different sizes, styles and colors are available.
Seamless Aluminum Gutters in any length
The term "seamless" explains the major advantage with this type of gutter: It can be custom-made to any length required, eliminating the need for seams. The magic of making seamless gutters occurs inside a gutter machine. The flat aluminum sheet that enters one end of the machine comes out the opposite end formed into the finished gutter profile. The most popular profile for seamless gutters is a "K" style gutter with a curved front edge.
Seamless Aluminum Gutters in any length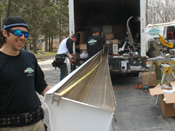 This K-profile gutter starts out as a flat sheet of aluminum. The gutter machine forms the profile, enabling the crew to create seamless gutters of any length. After the machine trims the gutter to the required length, workers attach end caps, then crimp and seal the caps to make the gutter watertight.
These cross braces are installed every 36 in. or so to stiffen the gutter. The brackets also provide attachment points for screwing the gutter to the fascia board during gutter installation.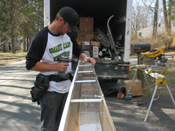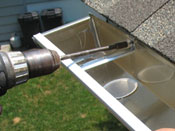 Driving a screw through each gutter bracket and into the fascia board anchors the gutter in place. Each gutter section is pitched so that water can drain toward the drop outlet for the downspout.
Downspouts are assembled from elbows and straight sections, then screwed to the gutter drop outlets and to the wall of the house.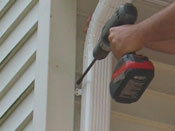 Seamless Aluminum Gutters Offer
There are a number of reasons why many homeowners choose seamless aluminum gutters over other types of gutters. Consider the following advantages
01  Durable, factory-applied finish. Aluminum gutters come with a factory-applied finish that is available in a wide variety of colors to match your home and/or roof. The finish won't wear off or require maintenance unless you have to touch up scratched areas.
02  No rust or corrosion. Aluminum won't rust or corrode; it's truly a no-maintenance material.
03  Speedy installation. A skilled crew can usually complete a seamless gutter installation on an average-size house in a single day, as long as the fascia boards along the eaves are in good condition.
04  Most affordable gutter option. Seamless aluminum gutters cost less than other types of gutters.
Contact us today for a free estimate on seamless aluminum gutter installation throughout the North Georgia area!
Want to have your home inspected to find out if aluminum gutters are right for your home? Call OC Roofing Systems at 1-844-385-9356 or contact us online for a gutter installation estimate. We will also inspect your gutters as part of our roof inspection.
We provide quality roofing services to North Georgia residents. We specialize in solutions to meet all of your roofing needs, including roof repair and replacement in Jefferson, Gainesville, Winder, Braselton, Flowery Branch, Atlanta, Hoschton, Rome, Roswell, Athens and surrounding areas.