Commercial Roofing Services in Gainesville, Jefferson and Throughout Georgia
Shingles Repair Solutions, Fair Prices and Quick Response to all your Roofing Needs
Why worry about roofing? In far too many cases, a roof doesn't get any attention until water begins leaking into the building. This is especially true with roofs of commercial buildings, where flat roofs and parapet walls truly put roofing issues out of sight and (thus) out of mind. At OC Roofing Systems, we urge all building owners
NOT to ignore roofing problems that can easily result in substantial damage to the structure and its contents. Our expert technicians are ready to inspect your roof and provide you with a detailed assessment of its condition. If you require emergency roof repairs, roof replacement or a new roof, we want to be your go-to contractor for all commercial roofing work.
Call OC Roofing Systems to setup a consultation for commercial roofing replacement, repair, or installation in Winder, Jefferson, Gainesville and nearby.
However, when you work with an expert roofing company like OC Roofing Systems, your roofing project will be much easier than you'd imagined. We are skilled with a variety of materials so you can get the look you desire at a price you can afford. And when we're done, you'll have a much stronger, safer roof to protect your family from Mother Nature.
To discover if our roof replacement services are right for you, schedule a free estimate in Gainesville, Jefferson, Winder or nearby today!
Multi-family housing. When serious roof leaks or storm damage occurs, we work quickly to keep tenants safe.
When is it time to replace your roof?
It can be hard to know when the best time for a new roof has come. Sometimes the need to replace your roof is obvious – if extensive storm damage has occurred and repairs are impractical or impossible, replacement may be your only option. However, there are other situations where the decision isn't so clear.
In general, if your roof is over 25 years old and has surpassed its warranty, if it has significant shingle damage, algae growth, and flashing or ventilation problems, your OC Roofing Systems professional may suggest roof replacement. We will discuss every detail with you to help you make the best choice for your home and your family.
A homeowner in Gainesville Georgia was frustrated with the look of their aging roof. Our specialist stopped by and provided a free estimate. The customer was thrilled and decided to have us install Owens Corning Duration shingles in Williamsburg Grey which come with a LIFETIME warranty when in installed by a certified dealer like OC Roofing Systems.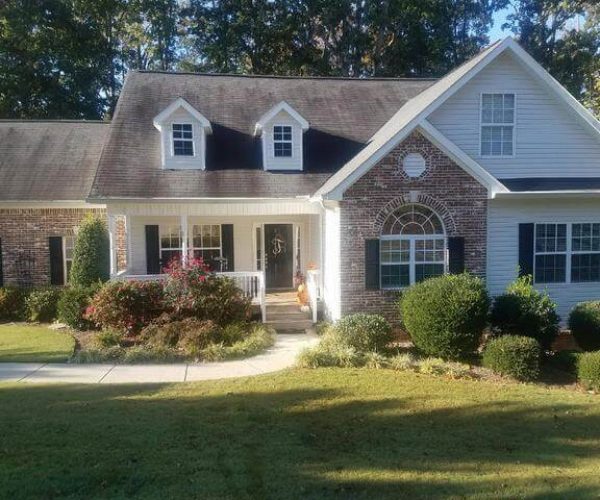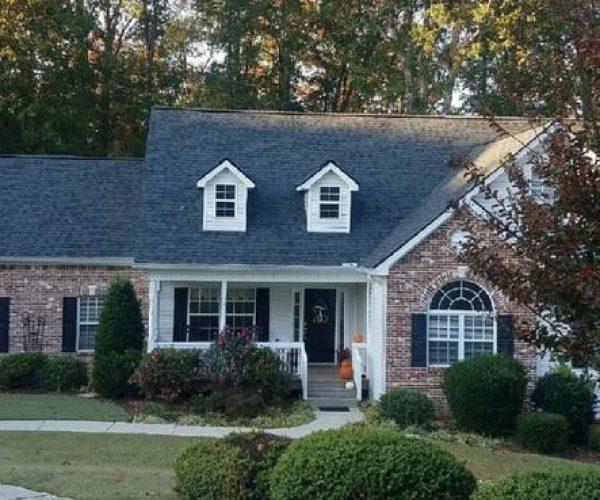 Why choose us as your commercial
Every community has plenty of roofing contractors. We want to earn your commercial roofing business the old-fashioned way – by exceeding your expectations for responsive, top-quality service. Here's what you can count on when you call on 
OC Roofing Systems
:
At OC Roofing Systems, we recognize that your commercial property is a valued asset that plays a major role in your business success. Our pledge is to always respond quickly to your commercial roofing needs and to deliver the best value and highest quality every time.
We recruit conscientious, dedicated team members, train them well and make sure they have the skills to do top-quality work. Whether you need repairs on an old-fashioned built-up roof, a new single-ply roof, polyurethane foam roofing or anything in between, we have the know-how to serve your needs.
We are constantly updating our tools, trucks and other equipment to ensure that every crew can work safely, efficiently and to top industry standards.
Access to the best roofing materials. We deal with major building material manufacturers to make sure we have access to the best roofing products at competitive prices.
Our commercial roofing services in
07  Flashing repair & replacement
08  Flat, low-slope and sloped roof expertise
09  Free estimates for all roofing work
10  All roofing materials & treatments available
The Benefits of Roof Replacement
While a roof replacement project might seem overwhelming at first, the long-term effects of a new roof are always in your favor. Not only will you enjoy the peace of mind that comes from knowing you have a reliable roof over your head, but you will also improve the value of your home, making it easier to sell when the time comes.
Additionally, individual roofing materials also offer different benefits depending on your home's needs. For example, asphalt shingles are extremely cost effective, metal roofing is the sturdiest material available, & wood shingles are ideal for a beautiful, traditional aesthetic. The materials we work with include:
Many of the worst roofing issues we see start off small, such as a minor roof leak. But when left untreated, complications always emerge, & we are forced to charge you for a much larger job. Let OC Roofing Systems' experts get you started with roof repair & maintenance today, keeping your home safer & more affordable overall!
Schedule a Free Estimate Today
If you are looking for a North Georgia commercial roofing contractor, call OC Roofing Systems or email us today to make sure you get the best value in commercial roofing.